Salam...
Aku xbrape sehat lah. Jadi nafsu nak memonteng sedikit melonjak sekarang ni..hehe Grave disease punye pasal, aku lawan jugak la perasaan nak bed rest ni..sbb aku kene buat jugak PBL ni.. Kan aku cuti 4 hr last week, so aku ngan hosmet aku masak2.. ade 1 hr tu aku msk sambal udang taw.. Ade la kwn aku dr umah lain dtg nak lepak2 ngan hosmet aku sorg ni.. N diorg dtg utk mkn2 jugak.. So hosmet aku ni die idang jugak la sambal udang aku kat kwn die tu.. Aku xjoin taw, sbb aku sibuk ngan u tube aku kat atas.. Unexpectedly, 2 hr lps tu, membe hosmet aku tu ym aku n mintak resepi! Woww~ Aku xpnah terpike langsung ade org mintak kat aku resepi. Like, for real??? Hahahhaha... tetibe rs sayang die lebih. :p
Makalah aku skang in progress ag.. Aku ni kalo buat keje, nak stat tu sgt lah susah. Tapi kalo aku dah mule, aku akn beriya btul lah.. Skang ni tgh cari complications, treatments..erm.. sbnanye still rase xpuas ati ag ngan yg dah buat ni. Eh. Cerewet rupenye aku ni. Hahah
Antara simptom yg khas pada penyakit ni ialah...seperti gambar di bawah: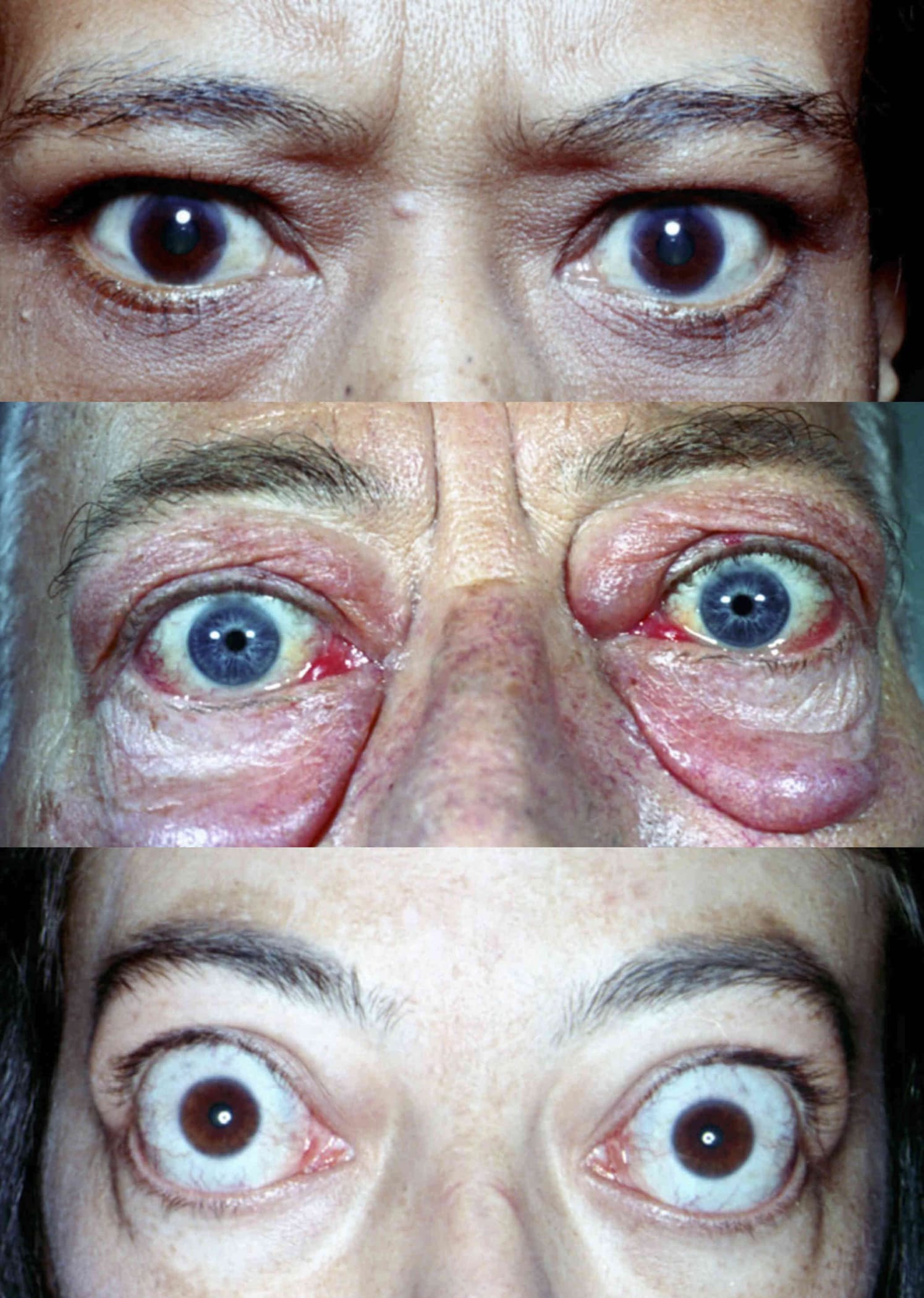 Aaaaaaa..yg xmo tgk sile skroll laju2.. :D Tu sume x normal ye. Varying degrees of manifestations for Graves disease, and this is a symptom we call exophthalmos, di mana jaringan belakang bola mata membengkak sehingga menekan bola mata keluar (tapi xklua btol2..errrmmm).. In case ade yg nak tau cmne bole jadi mcm tu, may be gambar kat bwh ni bole cite sket2..
Ok lah bebeh.. I think i have to get back to work.. eceh! :p